Skip to product information
Media gallery
Thomas Necklace
DESCRIPTION
Support for good alignment of the cervical spine with slight limitation of its range of motion.
Record Sanitary 2017DM-0016209
Use
Ideal for injuries and traumas in which some degree of immobilization of the patient at the cervical level is required. Place the chin in the pressure zone. Place around the neck with the closure facing back. Attach velcro to the side and adjust according to comfort. Contains cotton lining with interchangeable replacement.
Care
Liner Washing: Remove the collar protector, hand wash with cold water and mild soap. Do not use detergent. Do not wash in a washing machine. Do not wash the necklace.
Warnings
Unnecessary immobilization exposes the patient to increased intracranial pressure and hinders a patent airway, increasing the risk of aspiration, dysphagia, skin ulcerations, pain, and tissue ischemia. Improper mobilization of the neck can lead to spinal injuries. Applying a small collar size may allow cervical flexion. Applying a large size can lead to cervical extension. Excessive closure of the collar: discomfort, respiratory distress, difficulty swallowing.
Notified by email when this product becomes available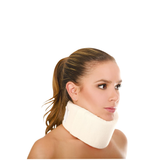 Thomas Necklace